Heisann. I'm new here. My name is Freja.
I am trying to find a pattern or a lesson in how to combine the different coloured wools for the top section of Norwegian fishermens' jumper.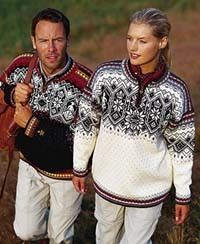 I was only ever taught 'casting on, casting off, knit and purl' by my mother and I will be looking forward to my Scottish granny teaching me cable knit soon, however, I never was taught how to mix the coloured wools into a pattern other than stripes, of course. Do any of you have a pattern you would share with me, or are any of you with webcam and willing to show me what to do? I've had a request from a friend in Australia to make him one of these and send it to him. He did also ask if I might send a nice Scandinavian lady along with it. >:D
Any help is appreciated. Takk. Hade!